Just because it isn't hot does not mean your baby cannot be burned by the sun. It's not the heat that burns skin, but the ultraviolet (UV) rays. UV rays can damage a person's skin at any time of the day or year, even in the winter. Babies have vulnerable skin that can quickly suffer short- and long-term damage from the sun. Just one sunburn during childhood increases the risk of melanoma later in life. Check out these six ways to protect your baby from the sun.
1. Use a sunshade.
Attach a sunshade to your baby's stroller or carriage for whenever you're outside. You might want to pick up an add-on stroller shade (they're usually inexpensive) to fit over your stroller's canopy with built-in UV protection. Use a removable mesh window shield to keep direct sunlight off your child while he's in the car.
Even with the shade up, keep the stroller in shaded areas. This will prevent the stroller from heating up dangerously in the light.
2. Dress your baby properly.
Cover your baby's arms and legs in a lightweight, light-colored clothing. Even if it's hot, it's better to be covered to protect delicate skin from the harsh light. Use fabrics with a tight weave. You can judge them by holding them up the light; looser weaves will have more light shining through. Keep a sun-protective change of clothing in your car or diaper bag in case you are caught outside on a sunny day.
3. Toss on a hat.
Regardless of the amount of hair your baby has, a hat is essential. Use one with a wide brim or flaps in the back and sides for neck and ear protection. Ideally, you want something large enough to shade the face.
4. UV-protective sunglasses.
Some parents have a hard time getting their child to wear sunglasses. If your baby is old enough, he might be able to grasp the benefit of eye covering.
5. Use sunscreen liberally.
Use a sunscreen that's at least SP15. Look for the words "broad spectrum" on the bottle. This means it protects against both UVA and UVB rays, each of which damage you in a different way. Apply the lotion fifteen to thirty minutes before you head outdoors and reapply at least every two hours. Cover all of the baby's exposed skin, including the tops of the ears, back of the neck, hands, and feet. If you take your baby into the water, reapply the sunscreen as soon as he is dry, even if it's before the two-hour mark.
Check your sunscreen's expiration date and replace it as needed. The active ingredients can lose effectiveness over time.
6. Stay out of the sun.
Sounds easy, right? If your baby is still an infant, you shouldn't be in the sun at all. Their skin is too sensitive, even for sunscreen. Baby skin is still delicate and especially susceptible to sun damage. If you do have to go outside, try to keep your trips to the mornings or evenings when it's cooler and sun's intensity is limited.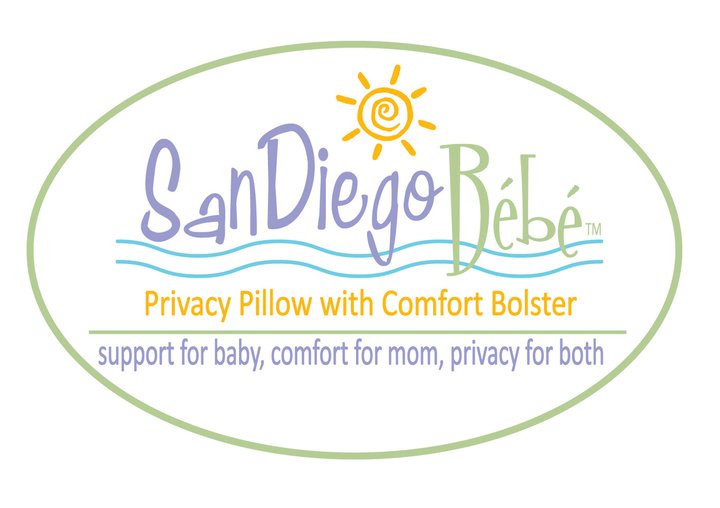 Written by Sandy Clark, Inventor of San Diego Bebe Eco-Nursing Pillow
San Diego Bebe® was designed by San Diego native Sandy Clark, a passionate breastfeeding advocate and mother of twins. Clark was inspired at a San Diego beach one day where she witnessed a young mother unsuccessfully nursing her baby. As the mother struggled to keep a blanket across her shoulder for privacy while her baby wailed from heat and hunger, Clark vowed then and there to design a product that would help resolve the issue of discretion while nursing in public. San Diego Bebe® was born that day.
After Clark read a recent Duke University study on toxic chemicals in baby products, she sent her nursing pillow to Duke to be tested and reviewed. Duke University Chemical Scientist Dr. Heather Stapleton, the nation's leading fire-retardant research specialist, and a new mother herself, said, "It's wonderful to find a nursing pillow on the market that is not treated with chemical flame-retardant additives in the filling material. San Diego Bebe® Eco-Nursing Pillow is not only a very supportive pillow with amazing features for discreet nursing, but is also free of flame-retardant chemicals that have been shown to cause adverse health effects in animal studies. I applaud this manufacturer for taking steps to produce high quality products that meet the same flammability standards without using these chemicals."
San Diego Bebe® Eco-Nursing Pillow is the healthiest and most innovative nursing pillow on the market. Made with virgin Eco*Loft™ fiber, a non-toxic and hypo-allergenic foam-alternative, it's void of harmful chemicals. It's also recyclable and eco-friendly. San Diego Bebe® is available in two versions, for nursing one baby or twins. The entire line is baby-safe, and is covered with deluxe plush fabrics including organic cotton.
Interested in writing a guest blog for the The Diaper Clutch? Send your topic idea to mailto:cynthia@thediaperclutch.com.
All data and information provided on this site is for informational purposes only. The Diaper Clutch makes no representations as to accuracy, completeness, currentness, suitability, or validity of any information on this site and will not be liable for any errors, omissions, or delays in this information or any losses, injuries, or damages arising from its display or use. All information is provided on an as-is basis.